Институт славяноведения РАН (Москва) начал выпускать новый рецензируемый журнал, посвященный славянской филологии и сопредельным областям (традиционно в Институте занимаются исследованиями по славянской филологии в широком ареальном и типологическом контексте). В журнале будут публиковаться статьи на славянских, а также на основных западноевропейских языках (английский, немецкий, французский и итальянский). Редколлегия призывает авторов подавать статьи на западноевропейских языках. Мы надеемся, что журнал станет платформой для взаимодействия и взаимообогащения разных научных традиций. Журнал будет выходить два раза в год в двух формах: как в бумажном виде, так и в интернете.
Contact us / Написать в редакцию:

Included in / Журнал включён в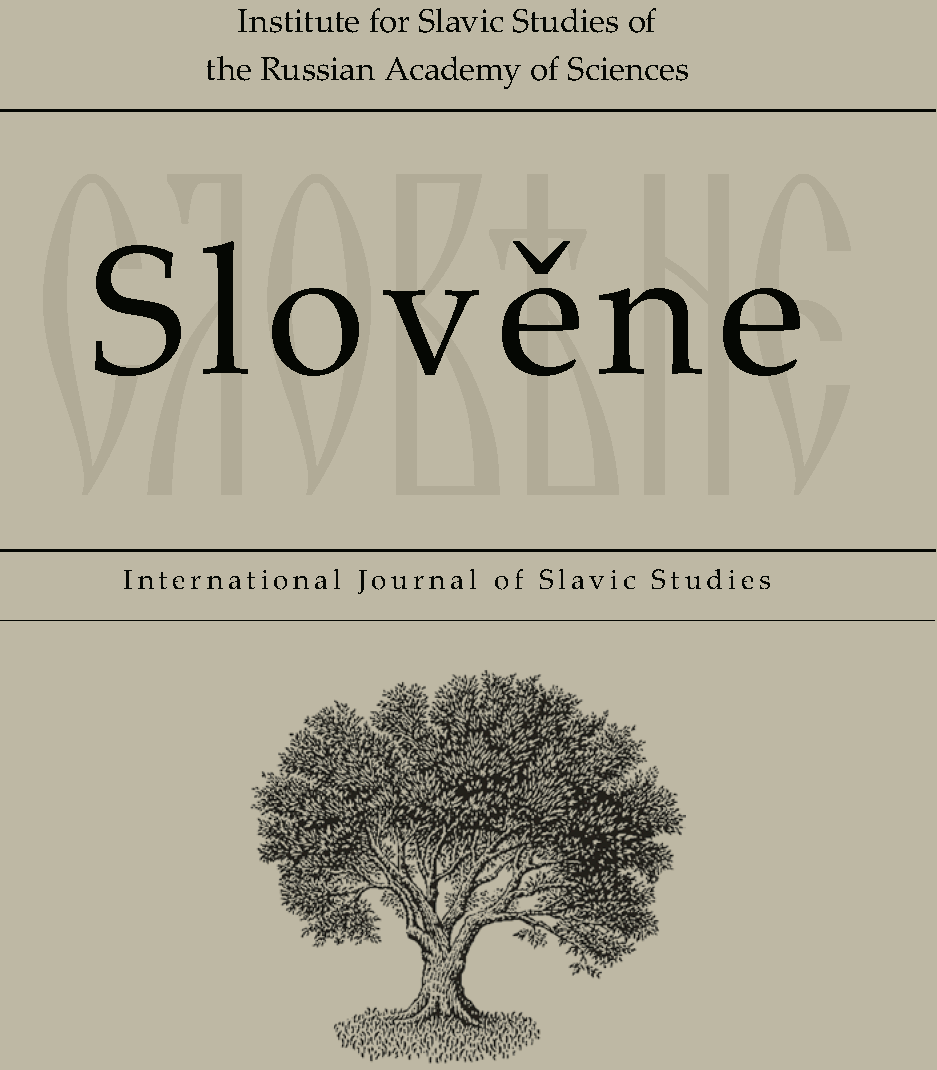 Editor-in-chief Fjodor B. Uspenskij / Главный редактор Ф. Б. Успенский
The editorial board:
Iskra Hristova-Shomova, Angel Nikolov, Maria Yovcheva (Bulgaria); Milan Mihaljević, Mate Kapović (Croatia); Václav Čermák (Czech Republic); Roland Marti, Björn Wiemer (Germany); András Zoltán(Hungary); Marcello Garzaniti (Italy); Jos Schaeken (Netherlands); Peter M. Arkadiev, Alexander I. Grishchenko, Ekaterina I. Kislova, Roman N. Krivko, Sergey L. Nikolaev, Maxim M. Makartsev, Philip R. Minlos, Alexander M. Moldovan, Tatjana V. Rozhdestvenskaja, Anatolij A. Turilov, Boris A. Uspenskij, Fr. Michael Zheltov, Victor M. Zhivov (†) (Russia); Jasmina Grković-Major, Tatjana Subotin-Golubović (Serbia); Robert Romanchuk, Alan Timberlake, William Veder, Alexander Zholkovsky (USA).
Редакционная коллегия: Мария Йовчева, Ангел Николов, Искра Христова-Шомова (Болгария); Андраш Золтан (Венгрия); Бьёрн Вимер, Роланд Марти (Германия); Марчелло Гардзанити (Италия); Йос Схакен (Нидерланды); П.М. Аркадьев, А.И. Грищенко, о. М. Желтов, В.М.Живов (†), Е.И. Кислова, Р.Н. Кривко, М.М. Макарцев, Ф.Р. Минлос, А.М. Молдован, С.Л. Николаев, Т.В. Рождественская, А.А. Турилов, Б.А. Успенский (Россия); Ясмина Грекович-Мейджор, Татьяна Суботин-Голубович (Сербия); Александр Жолковский, Роберт Романчук, Алан Тимберлейк, Уильям Федер (США); Милан Михалевич, Мате Капович (Хорватия); Вацлав Чермак (Чехия).
The Institute for Slavic Studies of the Russian Academy of Sciences (Moscow) has launched a new peer-reviewed journal dedicated to aspects of Slavic philology and neighbouring fields (traditionally the Institute has been doing research not only on Slavic, but also on Baltic and Balkan philology, as well as looking on Slavic in a broader areal and typological context). The journal will publish papers not only in Russian, but in Slavic and in the major European languages: English, German, French and Italian. The editors urge the authors to submit papers in major European languages. We hope that the journal will become a forum of interaction and mutual enrichment of the Russian, East European and Western philological traditions. The journal will come out in two issues per year both in hard copies and online.
ISSN 2305-6754 (online)
ISSN 2304-0785 (print)
Call for papers / Нашим авторам